Regional and National – Commercial Paving, Roofing, Snow Removal and Pipeline Televising
Rabine Group is the leading provider of commercial, industrial, and retail asphalt and concrete parking lot pavement services across the country but that's not all we do. We go beyond parking lot paving for our facility managers and deliver roofing, snow removal and utility pipeline televising.
We are built on an unrivaled engineering foundation. We create a meaningful advantage for our customers: Highest quality work—on time, within budget, and executed to maximize long term return on investment.
Our staff and their families are a charitably minded team and proudly participate in activities supported by the Rabine Group Foundation. Our team gives back through volunteerism and charitable gifts to nonprofit organizations in the areas in which we work and live.
We are leading our industries in innovation, education and quality.
PAVEMENT INSTALLATION AND MANAGEMENT
Discover why facility managers nationwide choose our paving construction and maintenance companies for their pavement needs.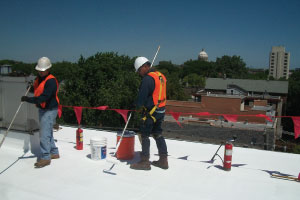 ROOFING INSTALLATION AND MANAGEMENT
Roofing professionals offer full-service local and regional roof installation, repair and maintenance specializing in commercial, industrial, institutional, and government facilities.
We are the national leader in snow removal and ice management solutions for commercial, industrial, and retail facilities.