Rabine Group Design Centers
Pavement Design Center
The LEED-Certified 100,000 square foot Rabine Group headquarters in Schaumburg, Illinois includes our unmatched Pavement Design Center. In our own parking lot, clients can see and experience a wide range of pavement materials in action, including the industry's most advanced green paving solutions. To learn more schedule your company for an on-site tour.
The 200 stall parking lot includes examples of the following pavement types at various thicknesses as well as an area for pavement maintenance testing and demonstration:
Pervious concrete
Porous asphalt
Stamped concrete and asphalt
Full-depth concrete and asphalt
UltraLot Whitetopping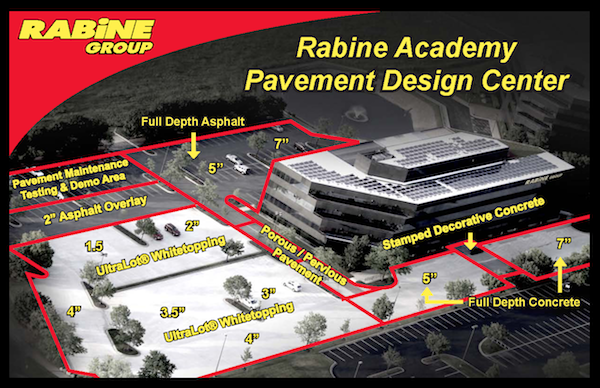 Roofing Design Center
The Rabine Group is at the forefront of green roofing commercial implementations. These techniques dramatically reduce stormwater runoff and resulting sewer overflows; they also can offer meaningful energy savings and aesthetic appeal.
Our own 100,000 square foot headquarters in Schaumburg, Illinois has earned LEED Certification for Existing Buildings from the U.S. Green Building Council (USGBC), in part because of the energy efficiency and environmental quality benefits of the LiveRoof (vegetative garden roof and solar roof technologies) installed as part of our Roofing Design Center. Rabine's Roofing Design Center is comprised of 15 roof types, and a walking path that allows clients to examine each option, including:
Solar roofs & solar panels
Vegetative roof & garden
Built-up roof (BUR) with gravel
Cool roof coatings
EPDM rubber membrane
PVC membrane
The solar roof features 294 Monocrystalline panels and individual micro inverters. The 69.09 kW rooftop solar photo voltaic system produces 76,000 kWh of energy annually, and should offset 5% of the building's total energy consumption. Experience first hand the of the advantages of energy efficiency and renewable energy generation. To learn more schedule your company for an on-site tour.