Benefits of Fuel Freeze™
Palatine Oil Company clients are already saving on fuel
With fuel prices on the rise, it is vital for businesses to manage their fuel and fleet costs effectively. Palatine Oil Company offers clients the option to lock in prices for a specified amount of time, eliminating any surprise fuel costs.
One of our clients, a large transportation provider, burns 100,000 gallons of fuel per month. This client saved over $55,000 in just five months by entering into a five-month contract, guaranteeing a fixed price for fuel purchases. There was no up-front payment or minimum purchase. They locked into a price in January, when prices are relatively low. As fuel prices rose, their fuel price stayed the same, saving them money.
Fuel Freeze™ clients typically hedge 50% of their fuel. This particular client locking in their price in January of 2012 at #3.78 and hedged 50,000 gallons of fuel per month. Below is a graph of the average fuel prices of the U.S. in 2012, along with the client's cost savings.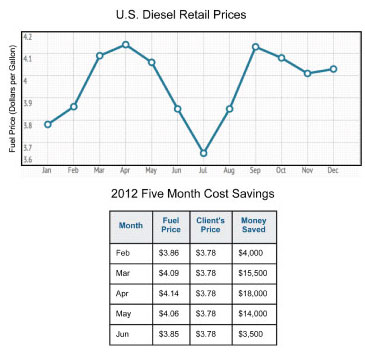 By taking advantage of the seasonal swing in fuel prices, our client:
Gained better control over monthly fuel costs
Protected earnings against price volatility
Locked-in margins and gained an advantage over the competition
Preserved cash flow for capital expenditures
Continued purchasing fuel from their preferred vendors
Increased their ability to predict their cash flow
Maintained an accurate budget
To learn more about our Fuel Freeze™ program, contact Joe Fell at jfell@palatineoil.com.