Paving & Milling Services
Rabine Paving is a full service commercial pavement construction and maintenance provider including paving & milling services. We create and repair parking lots, sidewalks, roadways, curbs, gutters, decorative pavement and more. We are uniquely positioned to handle any and all of your paving needs.
Asphalt & Concrete Paving Services
Pavement Engineering
Our civil engineers and consultants—specialists in pavement science—physically inspect each project site and conduct pavement analysis to ensure a sound ROI.
Paving Construction
Our expertise in paving extends to constructing new parking areas and additions. Our paving crews will get the job done right and on schedule to meet your needs.
Maintenance and Repairs
Address repairs to cost-effectively eliminate further damage, liability, deterioration and headaches.
Overlay and Resurfacing
Consider overlay—a common resurfacing option—or microsurfacing to extend the life of your parking lot and adds structural strength. It is much less expensive than reclamations or repaving.
Reclamation and Repaving
Repaving options include complete repaving, milling and overlay and pulverization. Choosing one of these options depends on the extent of the pavement's failure. Reclamation options like mulling and pulverizing usually are a more economical option than repaving.
Asphalt Milling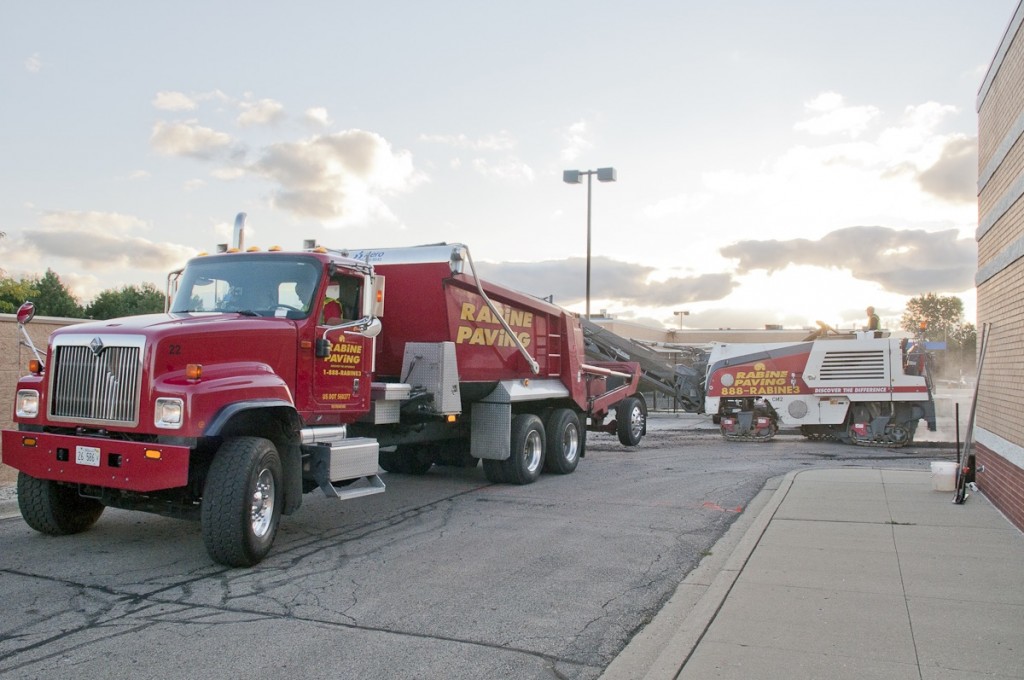 When an asphalt pavement surface deteriorates to the point of needing repair, an asphalt overlay is an effective solution. A standard asphalt overlay consists of a new layer of asphalt applied over the existing asphalt surface. The thickness of an overlay is typically 1 – 2 inches. The condition and type of asphalt as well as volume of traffic are factors that will determine the repair.
The existing asphalt surface may be milled if grades need to be maintained or altered. Milling is a process in which a machine is used to plane the pavement surface to an appropriate depth before it is covered with the new layer. Once the milling is finished and the overlay is completed, the customer is left with a new surface, ready for pavement marking.
Rabine Paving continually invests in state of the art milling equipment. This practice allows us to make certain that we are accurate in our elevations. Using current, top-of-the-line equipment also ensures 100% recycling of all material removed from a job site.
Excavation is an option if the entire damaged asphalt and sub-base must be removed from the site.