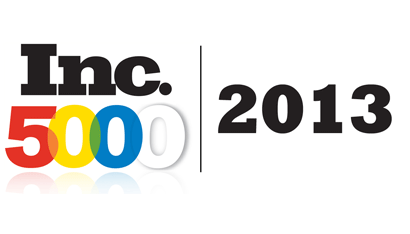 Schaumburg, Illinois (October 29, 2013) – The Rabine Group has been ranked on the Inc. 500 | 5000 list for the 3rd consecutive year. Inc. magazine's Inc. 500 | 5000 list is an exclusive ranking of the nation's fastest-growing private companies. The list is a comprehensive look at America's independent entrepreneurs.
CEO of the Rabine Group, Gary Rabine says "To be ranked on the Inc. 5000 list for the 3rd year in a row is a great honor and an amazing accomplishment for the Rabine Group. Our team strives to be world-class in all of the industries we serve. We will continue to deliver innovation to fuel the Rabine Group's growth."
The Rabine Group specializes in local and national facility services delivering innovative paving, roofing, flooring, fuel and snow removal services. The Rabine Group ranked #4,538 on the Inc. 500 | 5000 list. Last year, the Rabine Group was ranked #2,468 and in 2011, Rabine Group was ranked #1,477. The Rabine Group has also been recognized by Crain's Chicago Business as one of the fastest growing fifty companies in the Chicagoland area for the past 4 years.
"Not all the companies in the Inc. 500 | 5000 are in glamorous industries, but in their fields they are as famous as household name companies simply by virtue of being great at what they do. They are the hidden champions of job growth and innovation, the real muscle of the American economy," says Inc. Editor Eric Schurenberg.
In a stagnant economic environment, median growth rate of 2013 Inc. 500 | 5000 companies is an impressive 142 percent. The companies on this year's list report having created over 520,000 jobs in the past three years, and aggregate revenue among the honorees reached $241 billion.
For more information on the Rabine Group companies, its services and advocacy, visit www.Rabine.com or call 888-Rabine3.
About the Rabine Group:
Rabine is committed to delivering quality, innovation, and exceeding our clients' expectations. The Rabine Group is a premiere service provider for paving, roofing, snow removal, flooring oil and gas distribution and other construction needs. The Rabine Group companies include: Rabine Paving, Rabine Paving America, Pavement Solutions, Rabine Utility Paving, Roofing Solutions America, R. Commercial Roofing Solutions, R.W. Roofing Solutions, Crawford Roofing Experts, Rabine Snow Pros, Pipe View, Palatine Oil Company, Rabine Power Solutions and Rabine PrimeComposite as well as the Rabine Group Foundation.