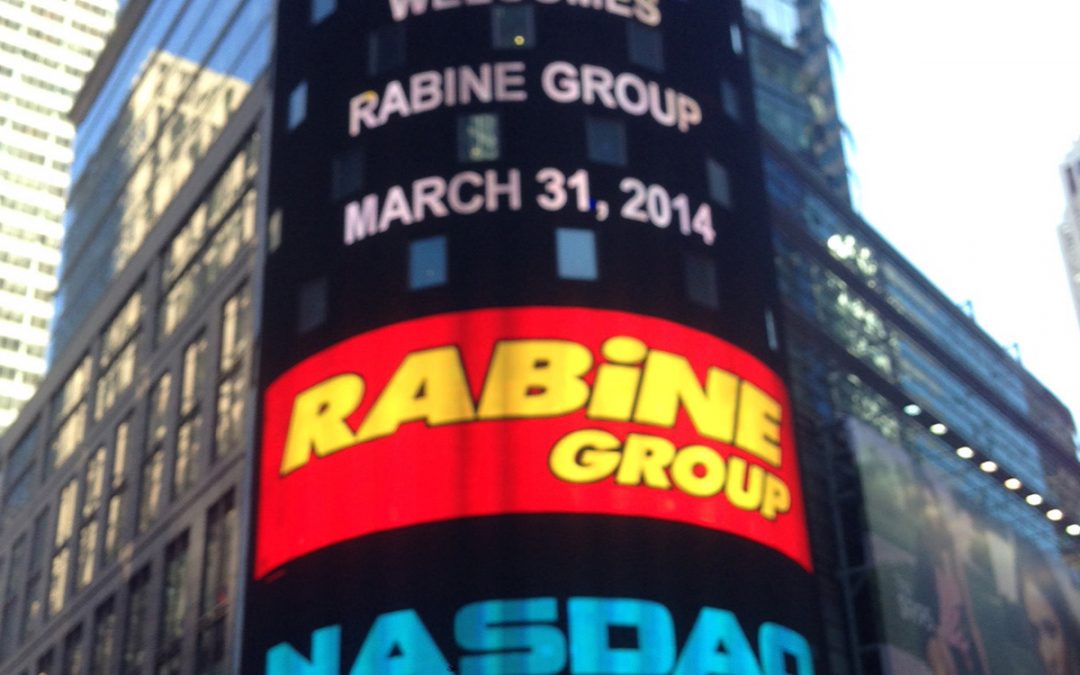 April 1, 2014 –Schaumburg, Ill. and New York, NY– Rabine Group, the national leader in facilities management solutions, rang the closing bell for the NASDAQ Stock Market to commemorate its selection as a 2013 Chicago Innovation Awards winner among 10 honorees. The award recognizes Rabine Group's dedication to world-class innovation through the introduction of a groundbreaking concrete flooring system.
The 2013 Chicago Innovation Awards honored Rabine Group for PrimeComposite a jointless concrete flooring system built for large industrial, cold storage and manufacturing facilities. The PrimeComposite flooring system can be poured for an area up to 65,000 square feet without a single joint, improving productivity for forklifts and eliminating maintenance created by traditional joints. Thinner slab construction requires less cement consumption and reduces the amount of C02 emissions by up to 30 percent, along with the amount of non-renewable resources otherwise needed.
"We are thrilled to be named a Chicago Innovation Awards winner for our PrimeComposite flooring solution. All of the NASDAQ listed companies are innovators in their own industries, so we are very honored to be here," said Gary Rabine, CEO of the Rabine Group. "PrimeComposite is one example of how Rabine is 'dematerializing' the status quo with a concrete solution that harnesses science, technology and creativity and proves that less material can lead to more effective products."
Accompanying the PrimeComposite flooring system, the team developed PrimeQuality SM to offer transparency into the concreting production process. This system provides real-time information, tracking and quality control as the product is made. Integrating PrimeComposite into building designs also contributes points to most projects qualifying for the U.S. Green Building Council's LEED certification rating system.
In addition to ringing the closing bell, winners were invited to formally share their innovations with Chicago Mayor Rahm Emanuel and Illinois Governor Pat Quinn. All 10 honorees also received recognition at an awards ceremony and invitations to the prestigious Disney Institute's innovation and training program.
"This annual event is an excellent example of how the Chicago Innovation Awards celebrates the spirit of innovation in organizations across all industries, sizes and sectors," said
Tom Kuczmarski, co-founder of the Chicago Innovation Awards.
About The Rabine Group
Rabine is committed to delivering quality, innovation, and exceeding our clients' expectations. Rabine Group is provider of pavement, roofing, snow removal, flooring, fuel, and other construction services. Rabine Group companies include: Rabine Paving, Rabine Paving America, Pavement Solutions, Crawford Roofing Experts, Rabine Snow Pros, Pipe View, and Rabine PrimeComposite as well as the Rabine Group Foundation.